I met the lovely Kirsty Bowness and her family through Crumbz Craft last year where I run art classes, when they did a fundraiser to help raise money for scientific research into finding a cure for Cystic Fibrosis (CF).  Kirsty and her husband Stephen have two gorgeous children, Liam and Grace, both of whom have CF and they are such sweet children and cope with their daily doses of medication and trips to hospital so bravely.
I donated one of my paintings last year when Toolangi Tavern held a Big Roast fundraising dinner which helped raised just short of $10,000 for CF research which was so exciting.  Now this year, Rob Dolan Wines are hosting a Big Roast and I am donating three paintings (pictured) for the raffle.  It's my way of helping – and the best part is – we can all help.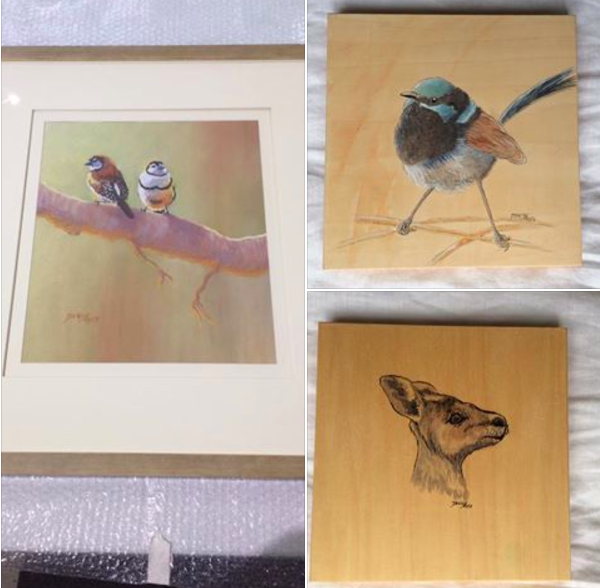 July is the month where each year Kirsty and Stephen encourage their friends, family and local restaurants to host a Big Roast to raise money for CF.  Check out all the details at thebigroast.com.au and if YOU can host a Big Roast or encourage your favourite local cafe or restaurant to do so during July, that would be fantastic.
If you love eating great food and supporting a charity at the same time – book a ticket to Rob Dolan Wines' roast to raise money for CF.  It's on Sunday 30 July over at Rob Dolan Wines' Barrel Room at The Farm Yarra Valley in Warrandyte – if you haven't been, you'll love it, it's stunning.  And there are amazing raffle prizes to be won – including three little paintings!  So, get your friends together and book a table and make a difference in the lives of those living with CF.