Crumbz Craft being presented with my original Helmeted Honeyeater
The award couldn't have gone to a nicer local business
HOW DID THIS COME ABOUT?
When the President of Healesville Rotary contacted me five years ago and asked if they could buy one of my paintings to be presented as the award for the annual Ron Goding Excellence Award, I was thrilled.  Little did I realise that for the next five years, each year they would continue to purchase one of my paintings as the award.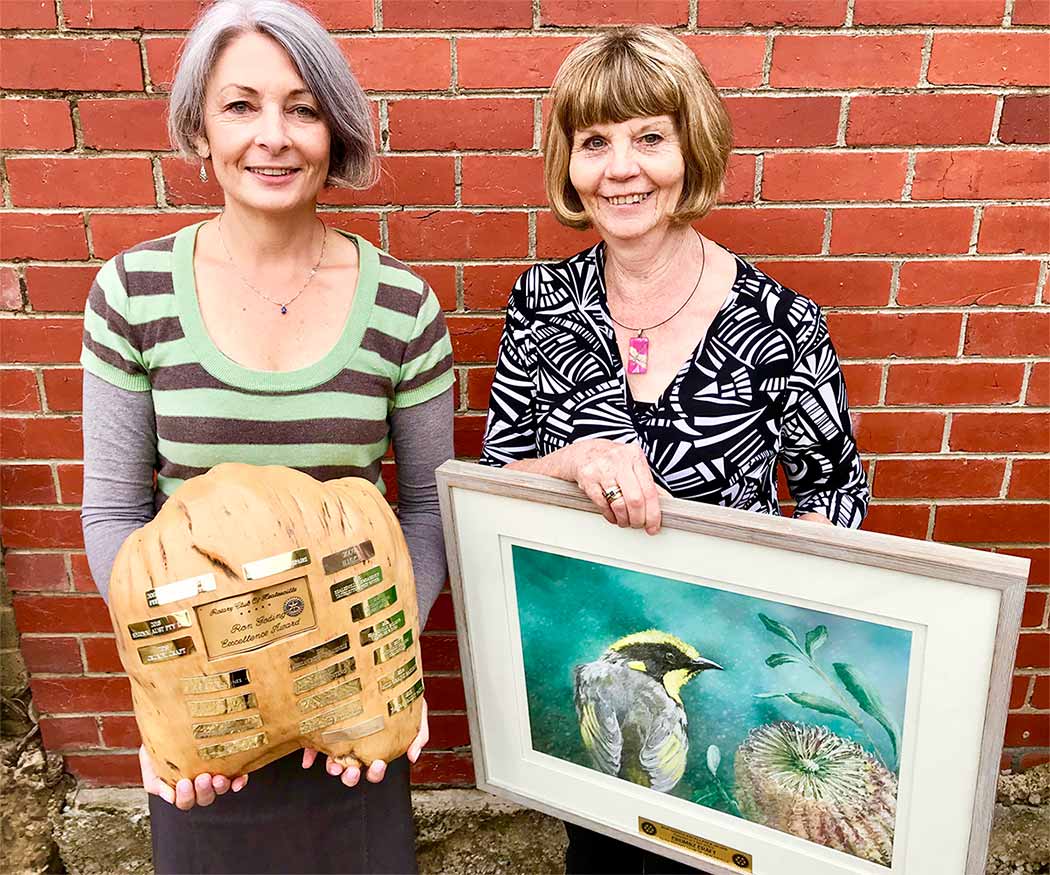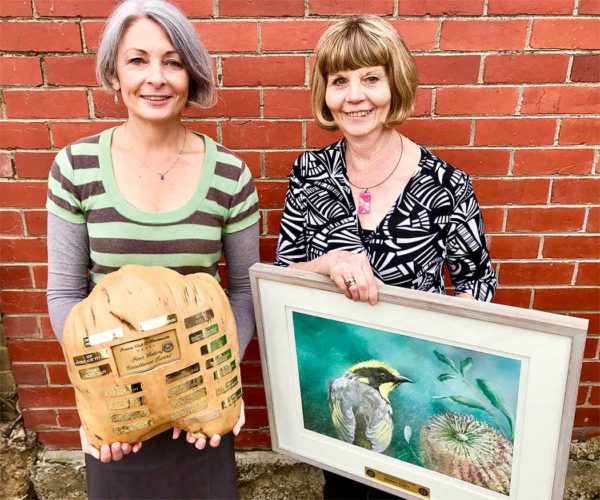 WHAT IS YOUR CONNECTION WITH THIS YEAR'S WINNER?
I am particularly thrilled that Crumbz Craft have won the award this year, as they are so thoroughly deserving of it.
I have known Crumbz Craft's owner Kay Trembath, for 10 years now, and have always loved her stylish shop and the way she does business.  When she approached me to run painting workshops in her craft room I was delighted as she and her staff are such fun, positive, creative people to work alongside and we have had some terrific workshops there over the years.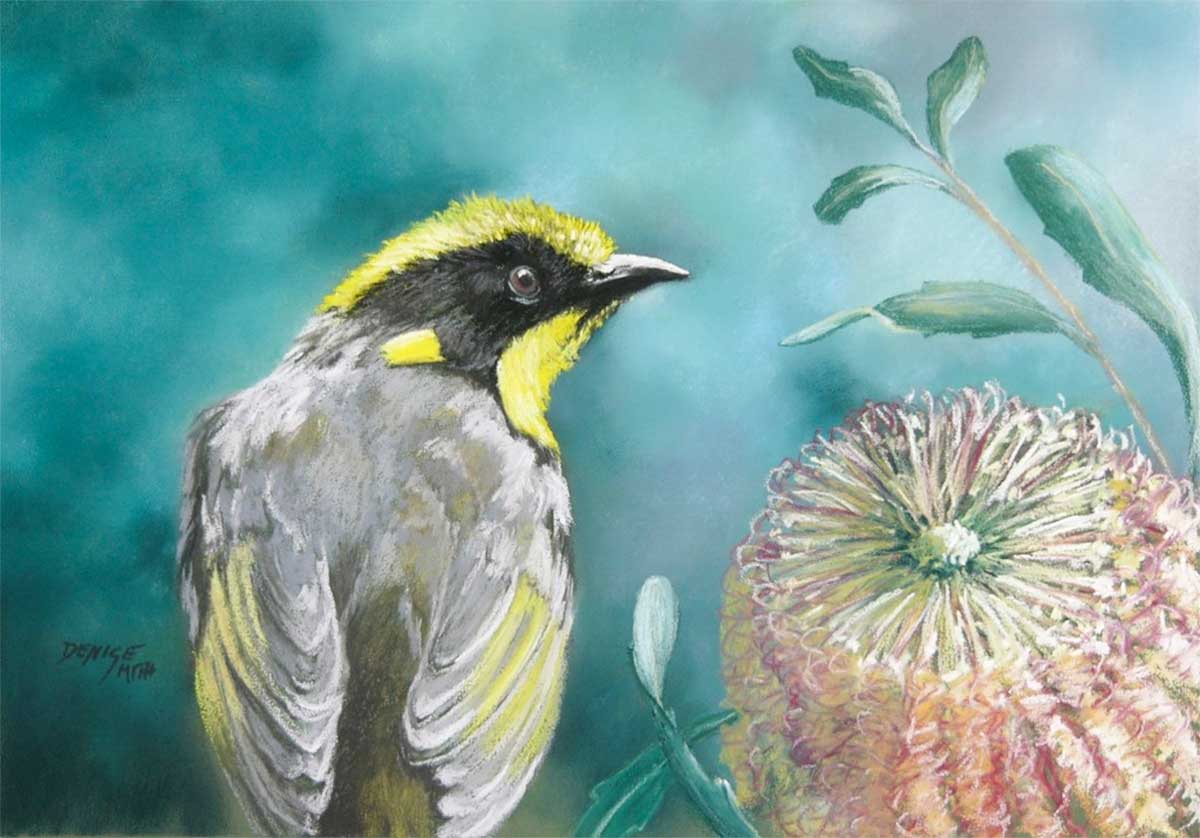 Kay's commitment to the community, and her customer service is spot on – every customer and person browsing in her shop is made to feel welcome and her staff are always helping a crafter up at the counter with a query, sourcing a product for them they can't buy elsewhere or advising them how to finish off a project.  People travel for miles to come to Crumbz Craft events and their annual month long fundraiser for a different charity each May is now etched in everyone's calendar, especially the overnight 24-hour yarn-a-thon at the end of the month.
Kay and Barry have been great supporters of mine over the years, buying my paintings at charity auctions and selling my cards and small watercolours in their shop. so I love that this painting is going to their beautiful home where it will hang alongside the other Denise Smith artworks and keep them company :-)
CAN YOU TELL US A LITTLE ABOUT THE PAINTING?
My painting is a pastel showing the unique form and colourings of this significant bird, the Helmeted Honeyeater.  The colours in his wings are beautiful with so many tones of grey to capture.  I like to paint birds and animals that need the PR, endangered species need the recognition before they are gone and it's too late.  And I wanted to include his habitat and food source, which is nectar from banksias etc!  (Photo reference is my own).
I painted it about 2 years ago now and my inspiration for it comes from the fact that this bird is not only endangered, which is so tragic, but also because he was such a cheeky little fellow and every time I tried to photograph him, he'd perch on my camera, so I couldn't!
Healesville Sanctuary where I worked as a tour guide for many years, have had a breeding program running for some time now, to boost the population, and releases are ongoing in a special top secret location over near Yellingbo!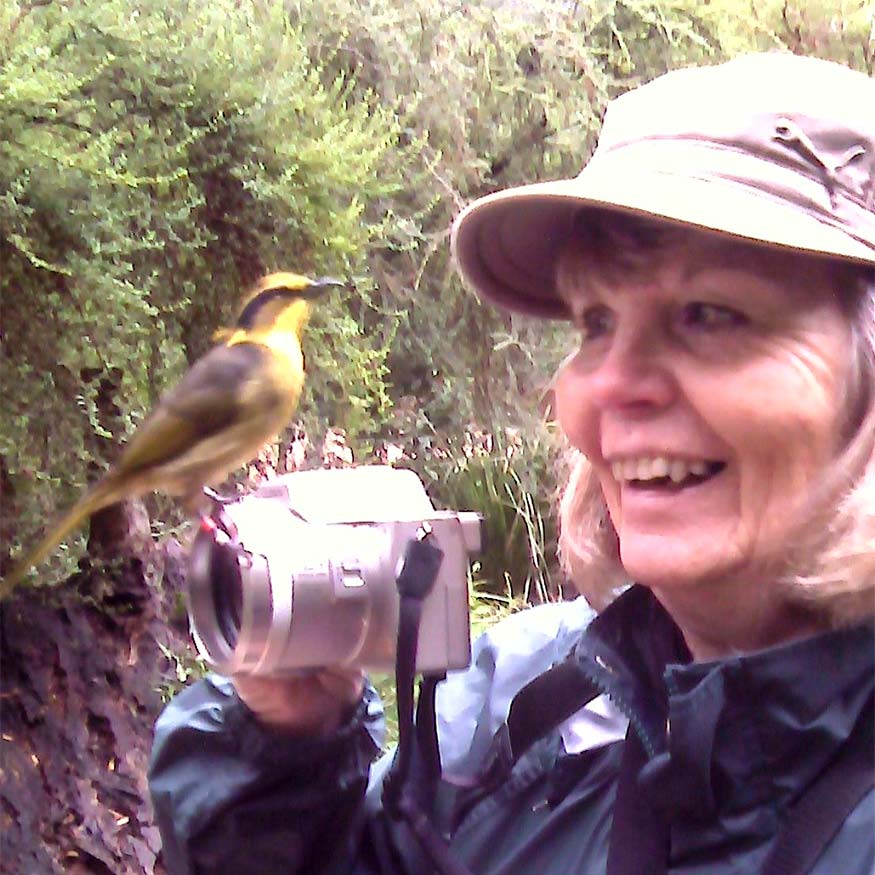 Wrendale Wildlife Studio : 3 Anderson Rd, Healesville, VIC,  3777