How do you get commissioned?
The reasons why people commission me to create a painting for them vary, but it is always a very personal acquisition. Some people have found me online, seen my work on my website or on social media, others have seen my work in an exhibition, hanging in a gallery, a doctor's waiting room or in a shop. Sometimes it's as simple as they missed out on buying one of my paintings and want one painting just for them. Or want to mark a special occasion or the passing of a much loved pet and would love a portrait of them to hang at home, so they are forever present. I often work from a photo or picture but as you can imagine, the brief I get from my client is everything, the more detailed the better. It's so important that the client and I understand one another really clearly so that expectations are not just met, but exceeded. :-)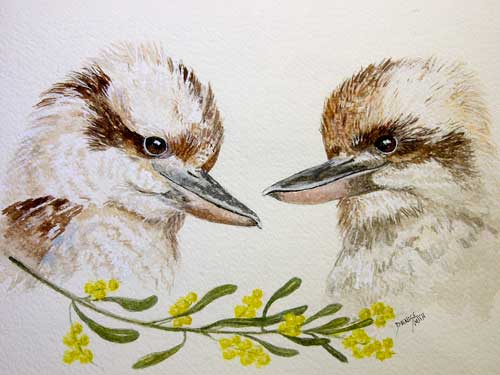 As I began this commission I took some progress photographs to record my journey through the commission – it's wonderful now looking back to see the artwork come to life.  Being able to show the progress of the painting is useful for my students – I can show them that we break the process down into stages and build layer upon layer to work towards the finished product!
How do you go about taking a Brief?
Whenever possible, I prefer to meet clients face to face in my studio or in their home where we can talk eye to eye, look at examples of things, agree colours by looking at them – being with one another is very beneficial as we explore the unique piece of art that they're after. Obviously some clients are abroad or live too far away to visit, so we manage via phone and emails. Some clients are very specific and clear about their commission, with others I help them create the idea and we really benefit from looking at pieces of art as we discuss.
I love chatting with clients and learning why, how and what they would like me to create! There's always a story behind each commission. This latest commission is for a local Yarra Valley client whose sister lives in the UK and is getting married. She loves Australia and has been out here to the Yarra Valley many times and her fiancee is a keen bird lover, so the commission was for two quintessentially Australian birds native to this region. My client looked through my cards and paintings in my studio and we discussed which birds would work best in the size painting she was after (small enough to fit into a suitcase comfortably) and in the medium she knows her sister prefers (watercolour). Choosing the correct paper or canvas is crucial depending on the subject, as is the choice of medium and these again I always discuss at length with my client. We then looked at a number of beautiful brightly coloured birds that are local to this region and that her sister would know, but with each one, my client imagined the finished product in her sister's home and the colours didn't work with her decor. We agreed on a composition of a pair of kookaburras sitting close together that looked as though they were listening to one another (just like couples do in married life)! The neutral tones of the kookaburra's colouring would work with the decor and we agreed that having the head and breast of the birds closer up, in the smaller size painting, would work better than a far away image of them in a tree. I suggested some native flowering wattle in the foreground as well to give the work another element, a splash of colour and another piece of Australiana.
If you would like to chat to Denise about commissioning a painting, email her via the contact form or call 03 5962 3950.